It's time to touch…
What's so forbidden? I can hear it being chanted, and, of course, I'm not going to share that with you. I feel like going in blind will enhance the experience for you. I want the story to do the talking. But I will leave you with this…
'The forbidden' is exactly that. Not allowed. Prohibited. Banned. At least, that's what society says. But what about your heart? It took a massive leap of faith for me to put these words on paper. I've always said that I write what my heart tells me to write, not what people want me to write. Never has my own motto been so significant in my writing career. I questioned my sense when I came up with the idea of The Forbidden. Then I reminded myself of my motto, of my heart's desire, and my heart really wanted to tell this story, despite knowing that it might not be what people expect from me. I couldn't let my fear of the taboo subject matter dictate my writing. So I dived right in – no holding back, no inhibitions, no softly-softly approach. The Forbidden is controversial. I've no doubt it'll cause debate, and I'm cool with that. As a writer, you accept that what you send out into the world is going to be picked apart, sometimes for the good, sometimes for the bad. This story is about the conflict. The feelings. The questions. It's about the heart ruling the head. I ask you to go into it with an open mind, and please remember that it is a story. One of passion, of love and of heartache. It's about falling in love with the wrong person at the wrong time. Because it happens. Every single day. But above all of that, it's about being true to yourself and your heart. It's about finding your soul mate and fighting for them. It's about standing by what you believe in. And we all believe in true love.
JEM xxx
What do you do when you can't control your feelings for someone? When you know you shouldn't go there? Not even in your head. 
Annie has never experienced the 'spark' with a guy-the kind of instant chemistry that steals your breath and blindsides you completely. Until a night out with friends brings her face to face with the wickedly sexy and mysterious Jack. It's not just a spark that ignites between them. It's an explosion. Jack promises to consume Annie, and he fully delivers on that promise.
Overwhelmed by the intensity of their one night together, Annie slips out of their hotel room. She is certain that a man who's had such a powerful impact on her and who could bend her to his will so easily, must be dangerous. But she's already in too deep. And Jack isn't only dangerous. He is forbidden.
So what are people saying about

THE FORBIDDEN? 
I just know you're dying to find out! Truly, I've been floored by the response so far. Absolutely floored. I hoped to touch a nerve or two, but in the best possible way. I hoped to make people stop and think for a while. I hoped to pull them in and make it impossible to get out…
"The Forbidden is deliciously seductive and one of the most passionate romances of the year.
Be prepared to experience the kind of spark only
Jodi Ellen Malpas can provide."

~ T.M. Frazier – USA Today Best Selling Author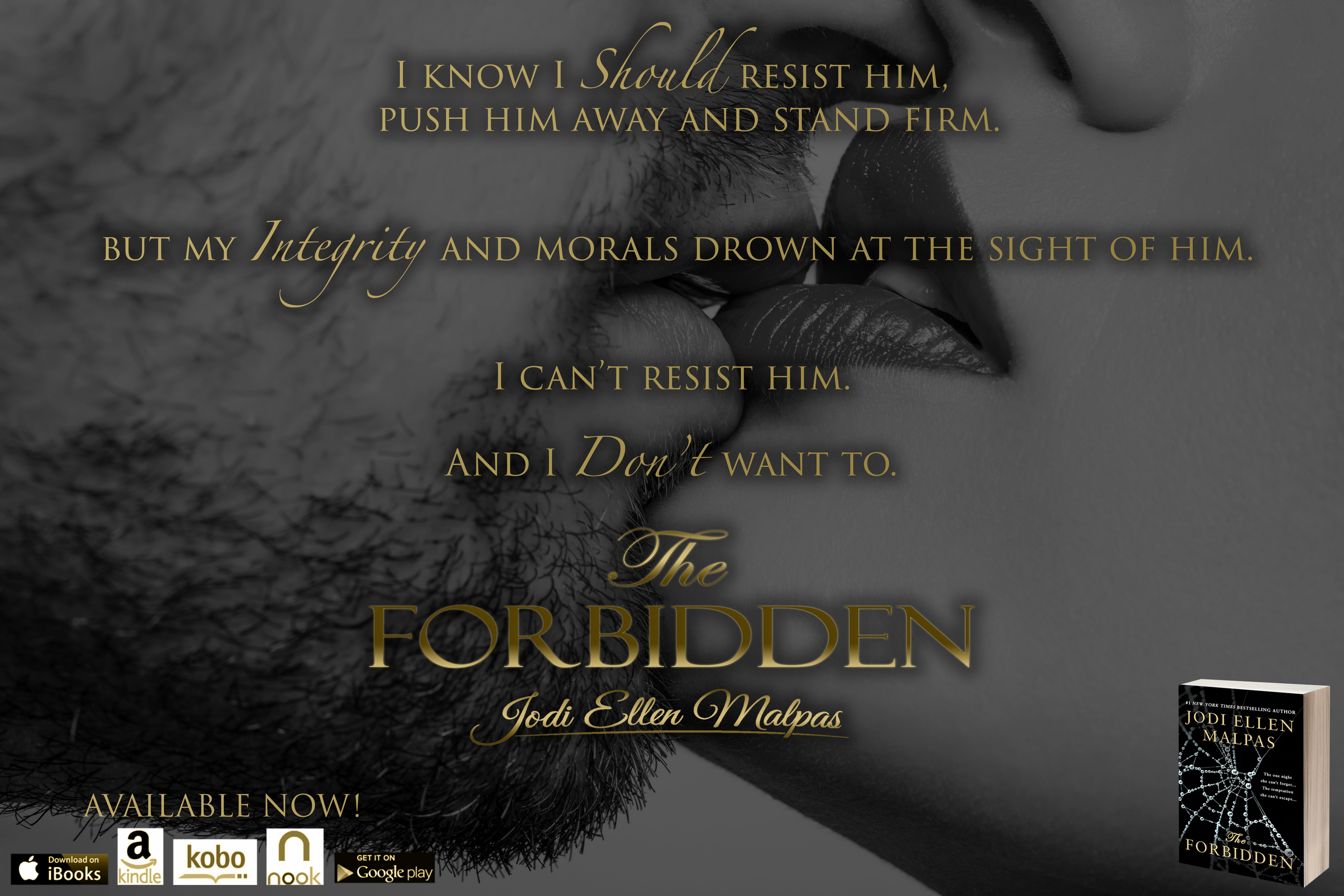 "Go big or go home, and Jodi went BIG! Compelling, addictive and full to the brim with passion & risk."
~ Hopeless Romantics Book Blog
"The Forbidden will make you reconsider what you thought you knew about yourself. It might turn your black/white into gray without asking your permission. You might fall, in spite of your determination to stand. You will fall in love with this book, just like I did."
~ iScream Book Blog
"WOW what can I say, it's another masterpiece from JEM. I'm still thinking about the story days after finishing, which tells me it's a book that will
stay with me forever." 
"The Forbidden proves that Jodi Ellen Malpas is not only one of the romance genre's most talented authors, but she is also one of the bravest."
~ Shelly Bell – Author of The Forbidden Lovers Series
"The way Jodi described everything, you felt like you were there in the story watching as things happened. I felt like I could really relate to this story.
In my opinion, this is Jodi's best and bravest work to date."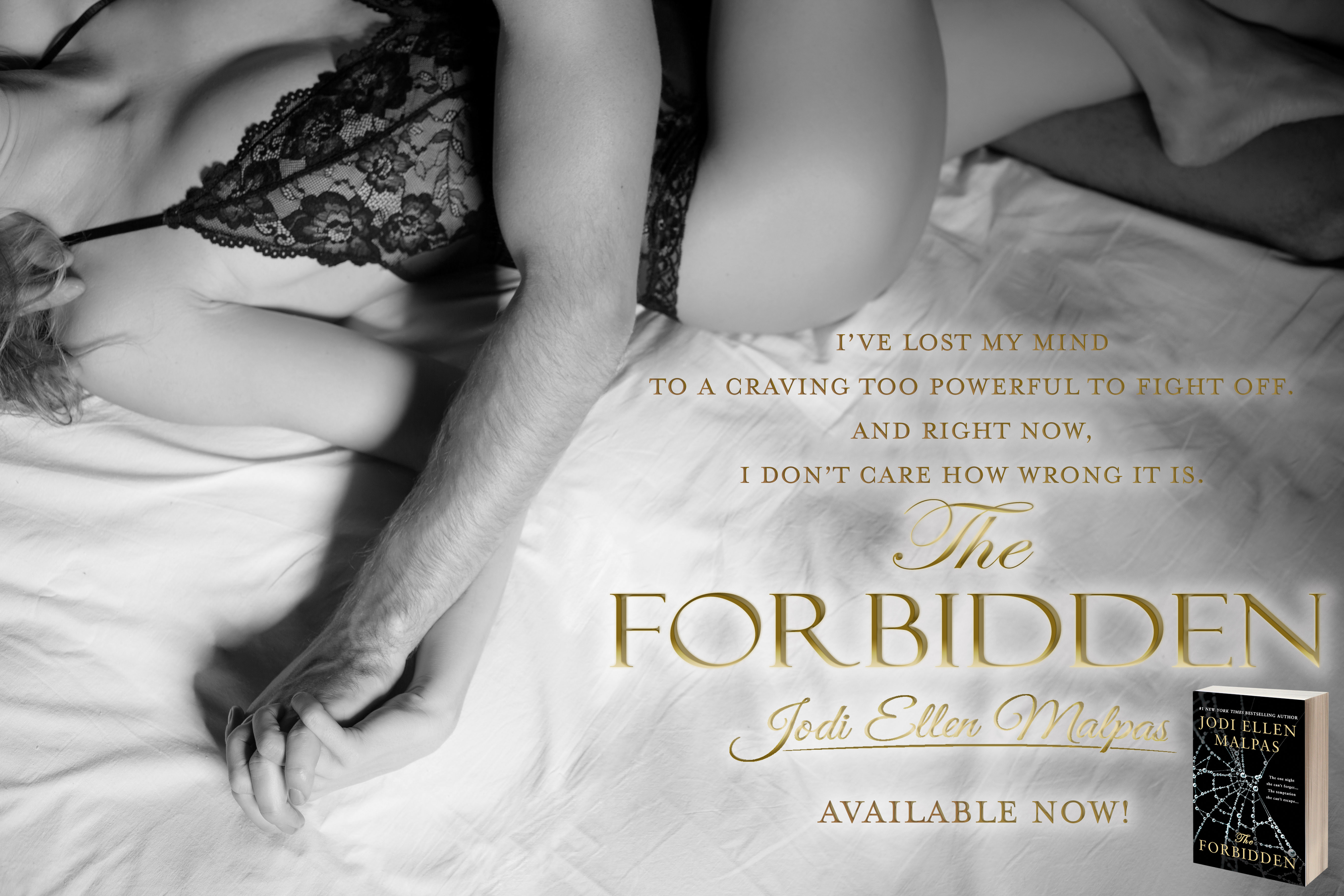 "Jack felt so real, It's like I could actually meet him in real life, Jesse and Miller are men from your fantasies. I thought nobody could top Jake from The Protector, but Jack had my heart from the start."
"The Forbidden strays away from what many would consider to be the conventional love story, it also strays away from what Jodi's followers expect from her, but I will tell you this, there's no staying away from dynamics of this story. To put it mildly, it is powerful, consuming, brilliantly written. Combined with convincing characters gives rise for a mind-blowing read. It knocked me backwards, turned me inside out and then put me back together again. And this is the good part; I felt I had no option but to reread it as I wanted to savour the whole story again, make sure I hadn't missed out on the smallest detail."
"There is no doubt whatsoever that Malpas' writing is courageous. I can't thank her enough for pulling no punches and telling Jack and Annie's story as she saw it; for getting me to step outside of my comfort zone and then draw me back in with an incomparable ease, for making me fall hard for this gorgeous couple.
5* best-book-I've-read-in-a-long-while stars!
BRAVO Jodi!" ~ KFForever
20 bookmarks,

20 winners, 
Click the image to win!
It's another fabulous Tracy Law special! 
Don't forget to breathe…
JEM
xxx